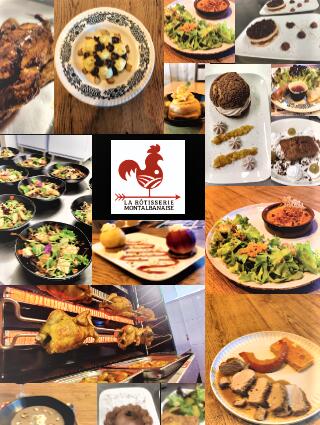 The Rotisserie Montalbanaise
Restaurant,
Traditional cooking
in Montauban
From farm to plate.

Traditional cuisine revisited.

Sublimate our local products, taste them at home or in our restaurant, from feather to hair, from tradition to innovation, from fork to mouth, from farm to plate, the Rôtisserie Montalbanaise restores local color to excellent dishes in a rural and warm setting.
Capacity

People :

16 place setting

People :

10 Dining tables outside
Tuesday

10:30 AM - 2:00 PM

5:30 PM - 8:30 PM

Wednesday

10:30 AM - 2:00 PM

5:30 PM - 8:30 PM

Thursday

10:30 AM - 2:00 PM

5:30 PM - 8:30 PM

Friday

10:30 AM - 2:00 PM

5:30 PM - 8:30 PM

Saturday

10:30 AM - 2:00 PM

5:30 PM - 8:30 PM

Sunday

10:30 AM - 2:00 PM

5:30 PM - 8:30 PM