La Cave o Délices
Restaurant , Gourmet cuisine , Traditional cuisine
at Montauban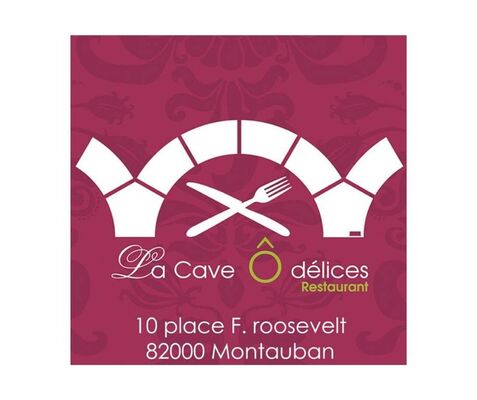 In a simple and elegant setting, La Cave o Délices , dedicates to its guests two spaces: the ground floor open on the kitchen and the red brick cellar in the basement.


The chef and his team offer you a tasty cuisine that harmoniously combines tradition and modernity.

CAPACITY: 40 seats inside / 25 seats outside

Open Tuesday to Saturday, noon and evening.

Annual closure: 3 weeks in July and 2 weeks in December - January.
















Services

Amenities

Equipment

Access for disabled
Car park
From 24 € to 0 €

From 26 € to 42 €

10 €
Openings

From

January 1, 2020

until

January 4, 2020

From

January 7, 2020

until

January 11, 2020

From

January 14, 2020

until

January 18, 2020

From

January 21, 2020

until

January 25, 2020

From

January 28, 2020

until

February 1, 2020

From

February 4, 2020

until

February 8, 2020

From

February 11, 2020

until

February 15, 2020

From

February 18, 2020

until

February 22, 2020

From

February 25, 2020

until

February 29, 2020

From

March 3, 2020

until

March 7, 2020

From

March 10, 2020

until

March 14, 2020

From

March 17, 2020

until

March 21, 2020

From

March 24, 2020

until

March 28, 2020

From

March 31, 2020

until

April 4, 2020

From

April 7, 2020

until

April 11, 2020

From

April 14, 2020

until

April 18, 2020

From

April 21, 2020

until

April 25, 2020

From

April 28, 2020

until

May 2, 2020

From

May 5, 2020

until

May 9, 2020

From

May 12, 2020

until

May 16, 2020

From

May 19, 2020

until

May 23, 2020

From

May 26, 2020

until

May 30, 2020

From

June 2, 2020

until

June 6, 2020

From

June 9, 2020

until

June 13, 2020

From

June 16, 2020

until

June 20, 2020

From

June 23, 2020

until

June 27, 2020

From

June 30, 2020

until

July 4, 2020

From

July 7, 2020

until

July 11, 2020

From

July 14, 2020

until

July 18, 2020

From

July 21, 2020

until

July 25, 2020

From

July 28, 2020

until

August 1, 2020

From

August 4, 2020

until

August 8, 2020

From

August 11, 2020

until

August 15, 2020

From

August 18, 2020

until

August 22, 2020

From

August 25, 2020

until

August 29, 2020

From

September 1, 2020

until

September 5, 2020

From

September 8, 2020

until

September 12, 2020

From

September 15, 2020

until

September 19, 2020

From

September 22, 2020

until

September 26, 2020

From

September 29, 2020

until

October 3, 2020

From

October 6, 2020

until

October 10, 2020

From

October 13, 2020

until

October 17, 2020

From

October 20, 2020

until

October 24, 2020

From

October 27, 2020

until

October 31, 2020

From

November 3, 2020

until

November 7, 2020

From

November 10, 2020

until

November 14, 2020

From

November 17, 2020

until

November 21, 2020

From

November 24, 2020

until

November 28, 2020

From

December 1, 2020

until

December 5, 2020

From

December 8, 2020

until

December 12, 2020

From

December 15, 2020

until

December 19, 2020

From

December 22, 2020

until

December 26, 2020

From

December 29, 2020

until

December 31, 2020