Street art in the rue Porte du Moustier
at Montauban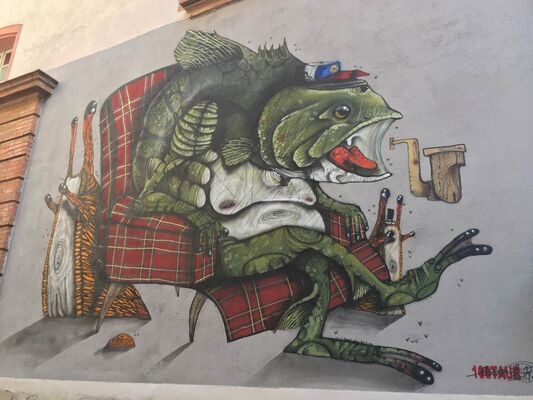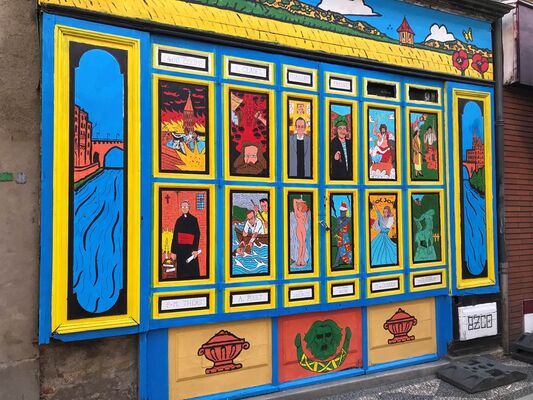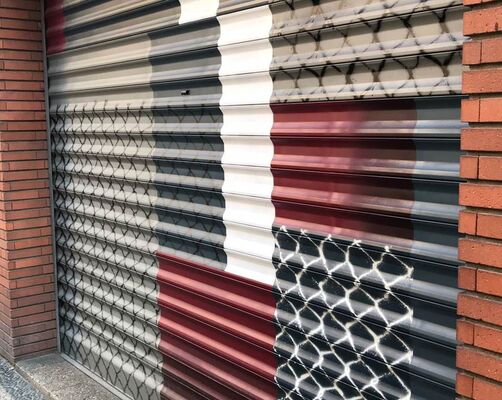 ©MontaubanTourisme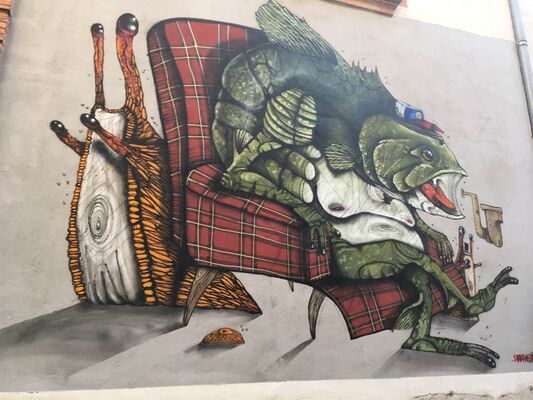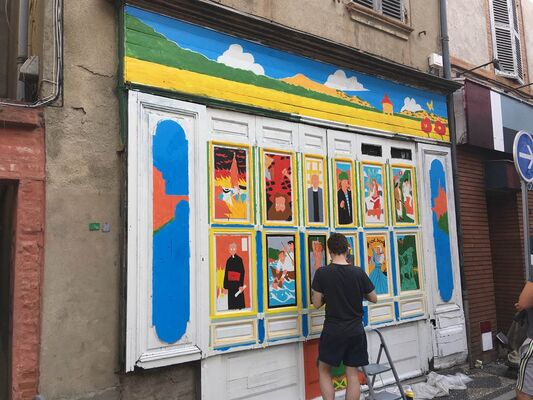 ©MontaubanTourisme
Young local and regional artists have taken rue Porte du Moustier to paint abandoned shop facades.
The street art invades Montauban and the city center with many works of artists from various worlds that rub shoulders with Antoine Bourdelle's sculptures.


Street art 100taur

Nicolas Giraud aka 100taur is a graffiti artist born in Montauban. He finds his training with the artist-engraver Marc Dautry (Nîmes settled at the end of his life near Montauban, now deceased). "He was and he remains my teacher and I was fortunate enough to be his pupil for a while, as at the origin of the artistic formations". His artistic culture has helped him to create his own world, by joining the movement "Lowbrow", especially known in the United States, a current that develops a popular culture, far from academic formations, and which is expressed in all media .
He took hold of the corner of the Rue des Soubirous, where on a sad and invisible wall he created a monster in an armchair.


Azco street art

A young Montalbanian artist, Azco took over wooden panels from an old-fashioned shop on rue Porte du Moustier to create a painted fresco paying homage to the most famous personalities of the City of Ingres and in particular to Philippe Gaillard.
Colorful, this mural is intended to liven up the street and bring a whimsical and artistic touch to an already busy city center that continues its transformation. Montauban therefore deserves its nickname open museum.
To access the work, go down rue Porte du Moustier.


Street art Afat and Kret

Afat is a visual artist from Toulouse. It is through the graffiti and in the urban environment that Afat makes his first steps, then turn to studies of Art.After obtaining a color master, he immerses himself in the development of his personal pictorial language and gradually designs a singular graphic universe, in the continuity of an identity marked by his atypical career.

It is in the suburbs of Toulouse that Kret discovers graffiti and in 2010, guided by his brother, he begins to make his first tags. Soon, he surrounds himself with his friends and begins to devote his time and energy to this practice. Also attracted by drawing and creation, he recently tried to develop and develop his art on other media.

Afat One and Kret took care of a metal window of a former tour operator to take us into their graphic and colorful world.
©MontaubanTourisme
©MontaubanTourisme