Les Poules
Show at Montauban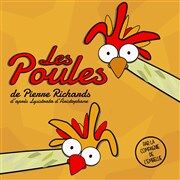 Un vent de révolte souffle sur le poulailler : Assez de ces mâles qui ne pensent qu'à une chose... voler dans les plumes de leurs congénères !
C'est pourquoi Paulette (poule d'origine) convainc Léone, Aurore et Ghislaine, respectivement paonne, oie et dinde, de faire le siège du poulailler et de déclarer la grève totale du sexe à leurs mâles légitimes... Mais si l'on gratte un peu, on entrevoit les problèmes qui nous concernent toutes et tous : l'égalité hommes–femmes, le rôle des uns et des autres, des uns par rapport aux autres, les relations parfois compliquées, parfois violentes...
C'est une pièce où l'on rit beaucoup, empreinte de féminité mais pas féministe, car les hommes y sont loin d'être absents, une pièce qui trouve écho dans une société où chacune rêve de vivre en harmonie avec son chacun.
Leave a review about Les Poules :
Horrible

Bad

Average

Good

Excellent
There is no review about Les Poules, be the first to leave one !