Les Ballets au cinéma : "Les Flammes de Paris"
Cultural , Dance , Show , Cinema at Montauban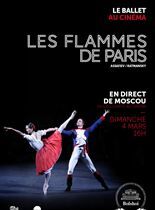 In the year 1789, Jeanne and her brother Jerome left Marseille for Paris in order to support the Revolution which is in progress at the capital. On their way to freedom, they also meet love ... Very few ballets do as much justice to the energy and talent of the muscovite company that the Flames of Paris. The version of Russian choreographer Alexei Ratmansky returns to the sources of the creation of this "revolutionary" ballet, with a virtuosity and power represented by some of the most breathtaking not ballet. A spectacle of almost too exuberant strength for the gigantic stage of the Bolshoi!