Les Ballets au cinéma : "La Dame aux Camélias"
Cultural , Dance , Show , Cinema at Montauban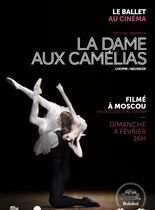 As soon as he arrived in Paris, the young and naive Armand met the unattainable and charming courtesan Marguerite Gautier. From their meeting comes a passionate love but with a fatal destiny ... The novel by Alexandre Dumas Jr. comes to life on the Bolshoi stage with star Svetlana Zakharova as the courtesan in search of love and redemption. This brings to its climax the emotion of this tragic story, to meet the sublime choreography of the American John Neumeier and on a heartbreaking score for piano by Frédéric Chopin.
Schedules

On

February 4, 2018

at 16:00