L'Opéra au cinéma "Luisa Miller"
Cultural , Show , Cinema at Montauban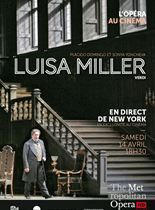 Luisa and Rodolfo love each other with forbidden love. Wurm, the steward of Rodolfo's father, makes Luisa sing and forces her to marry him. Rather than living in loneliness and despair, Rodolfo prepares a poisoned beverage that will reunite Luisa and him in death. It is a stellar cast that interprets this tragedy at the Met: Bulgarian soprano Sonya Yoncheva and Polish tenor Piotr Beczala will sing the roles of the two lovers Luisa and Rodolfo and will be accompanied, among others, by the immense Plácido Domingo in the role of Miller, Luisa's father.