Jeane Manson "Gospel for all"
Concert at Montauban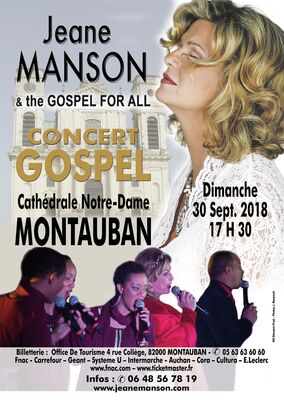 Avec l'album « Gospel » édité en 2001 chez Sony Music, Jeane Manson a parcouru, avec « The Broadway Gospel Group », pendant 10 années les Eglises et Théâtres de France et d'Europe. Puis, en2011, sa rencontre artistique et musicale avec le Quartet « The Ameni Gospel Singers » l'a amené à créer et présenter, accompagnée de son pianiste, son nouveau spectacle Gospel « Sur La Route du Gospel ».

Aujourd'hui, Jeane Manson poursuit sa quête du Chant Gospel accompagnée de ses Choristes « The Gospel For All » et de son pianiste.

Originaires d'Afrique, des Antilles et de métropole, « The Gospel For All » ont chanté avec les plus grandes Eglises Gospel et groupes Gospel au Monde, dont le Gospel pour 100 voix, avec déjà plusieurs CD enregistrés à leur actif. Attachés à leurs influences Africaines et passionnés de ces chants spirituels nés durant l'esclavage, leur répertoire Gospel intègre la musicalité légendaire du Blues et du Negrospirituals.

La nouvelle formation Gospel de Jeane Manson, présente un tout nouveau répertoire, qui rejoint le propre répertoire de Jeane. « La Chapelle de Harlem » qui se rapproche beaucoup des chants traditionnels Gospel, est repris. Et, toujours les grands standards avec de nouveaux arrangements comme « Oh Happy Day », « Jericho », « Oh When the saints », « Go Tell It On The Mountain », ou "Rain Down" … ainsi que les « Ave Maria » de Gounod et Schubert.

Grâce à la voix exceptionnelle de Jeane Manson aux 3 octaves alliée à la force et à la vibration intense du Chant de « The Gospel For All», la nouvelle formation de Jeane Manson devient l'ensemble vocal le plus créatif et le plus représentatif en Europe de la Musique et du Chant Gospel.
Schedules

On

September 30, 2018

at 17:30