Découverte jeune public - Atelier "L'odyssée de Nicolas..."
Cultural , Workshops , Young people , Young people , For children at Montauban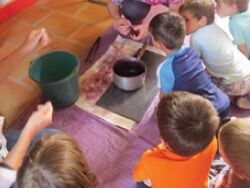 Workshop "The odyssey of Nicolas ..." sculptures and mythology - For 7-12 year olds Go on a journey to meet the sculptures that inhabit the city. Nicolas leads you on the paths of Greek myths. He mixes and detangles for you the threads of the stories of Chiron the centaur, the wise Penelope or Monsieur Christian Titan ... Practical information: RDV at the Heritage Center. Visit led by Nicolas Pechmezac of the Real association, in partnership with the Heritage Center. The Research Association at the School for Writing and Reading (Real) is open to anyone interested in books and youth. Real organizes each year the Children's Book Fair "The Pretty Words of May".
Schedules

On

April 17, 2018

at 15:00