Découverte jeune public - Atelier "Dans l'atelier d'Alexis Bergis, teinturier"
Cultural , Workshops , Young people , For children at Montauban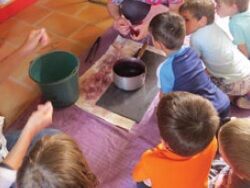 Workshop "In the workshop of Alexis Bergis, dyer" - for adults (7-12 years) Montauban counted in the 18th century many dyeing. In the footsteps of Alexis Bergis, master dyer around 1750, identifies the products needed for dyeing (dyeing plants, alum, red soap ...), prepares a shade and then apply it on a fabric. Practical information: Meeting at the Heritage Center Free on reservation at the Heritage Center or on 05 63 63 03 50.