De poils, de plumes, d'écailles et de papier - exposition
Exhibition at Montauban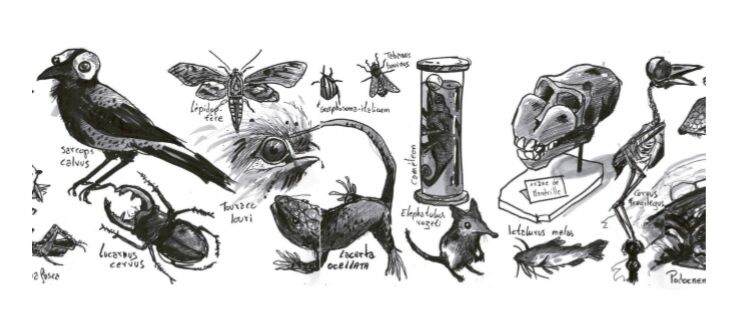 L'origine de ce projet date du printemps 2017 lorsque Raphaël Larre, professeur de Beaux-Arts à l'Institut des Arts de Toulouse (ISDAT) contacte le Muséum Victor Brun pour savoir s'il est possible d'organiser un cours dans les salles du musée. Rendez-vous est pris en mai 2017 pour une séance de dessin.

A l'issue de cette journée, les élèves sont inspirés et enthousiastes. Raphaël Larre et Aude Bergeret, directrice du Muséum, décident de réitérer l'expérience et de valoriser le travail des élèves.

Ainsi, depuis cette première visite, une trentaine d'élèves adultes de la section beaux-arts de l'Institut des Arts de Toulouse s'installe régulièrement avec feutres, crayons et pinceaux pour croquer les pensionnaires du Muséum.

Ces derniers, après avoir été des modèles plutôt coopératifs, partageront leur espace avec les œuvres de ces artistes, exposées au sein de l'exposition permanente. Les animaux croqués joueront avec l'espace et l'architecture extérieure, certains seront transformés en chimères, d'autres prendront la parole tandis que certains voudront s'extraire de leur prison de verre.

N'hésitez donc pas à franchir la porte du Muséum pour voir s'animer au fil de votre visite mammifères, oiseaux, insectes et autres reptiles grâce à des supports variés, des partis-pris artistiques divers et des œuvres éphémères.
Leave a review about De Poils, De Plumes, D'Écailles Et De Papier - Exposition :
Horrible

Bad

Average

Good

Excellent
There is no review about De Poils, De Plumes, D'Écailles Et De Papier - Exposition, be the first to leave one !