Chérie, j'ai invité mon ex !
Theatre at Montauban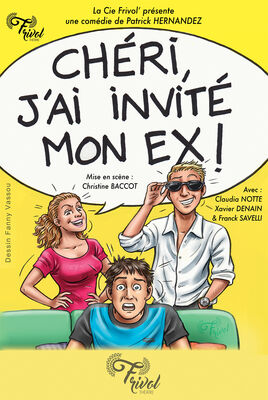 Pour provoquer un électrochoc chez son mari qui ne fait rien chez eux, Lisa appelle son ex pour faire les peintures.
Mais ça ne se passe pas vraiment comme prévu...
Comme beaucoup d'hommes, Quentin remet toujours à plus tard les travaux que Lisa lui demande de faire. Jusqu'au jour, où, en rentrant du boulot, il a la surprise de trouver Victor, l'ex de Lisa, en train de repeindre la chambre.
Dans un premier temps, Quentin n'apprécie pas du tout cette intrusion, qui l'inquiète et perturbe son petit confort pépère.
D'autant que Victor, célibataire, qui ne s'est jamais casé, se vante de collectionner les conquêtes. Vanneur et bon vivant, il va partager avec Quentin, qui lui, est un casanier coincé dans une vie de couple monotone, son point de vue et ses théories sur les femmes.
Tant et si bien que malgré leurs différences, les deux hommes vont devenir complices ; ce qui, finalement, ne va pas du tout arranger Lisa, qui attendait autre chose de sa petite manœuvre.
Une comédie de Patrick Hernandez avec Franck Savelli , Xavier Denain et Claudia Notte
Leave a review about Chérie, J'ai Invité Mon Ex ! :
Horrible

Bad

Average

Good

Excellent
There is no review about Chérie, J'ai Invité Mon Ex !, be the first to leave one !