Concert / 4-handed organ
Concert
at Montauban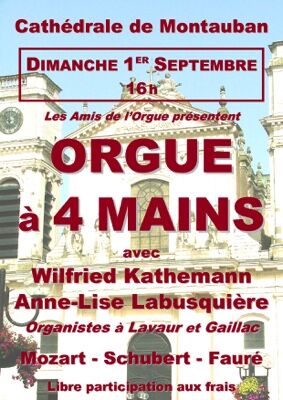 Concert proposed by Les Amis de l'Orgue.

Wilfried Kathemann and Anne-Lise Labusquière, organists of Lavaur and Gaillac play on the great organ of the Cathedral of the transcriptions for organ with 4 hands of works of Mozart (opening of Don Juan), Schubert (The Young Girl and the Death , The Trout) and Gabriel Fauré (Dolly).

>>> Practical information: free participation fees.
Schedules

On

September 1, 2019

at 4:00 PM