Découverte jeune public - Atelier "Les mange-couleurs"
Cultural , Workshops , Young people , Young people , For children at Montauban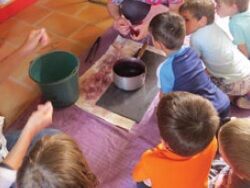 Workshop "Les Eats-colors" - For 4 / 6years. What colors have the houses of Montauban? Red cherry ? Candy pink ? Yellow lemon ? Come and discover it by playing with us in "chinese portrait", "fly eyes" and "tutti frutti" .... You can then have fun with the colors and repaint the city at your leisure. Practical information: RDV at the Heritage Center The presence of a parent is desired during activities for 4-6 years. Free on reservation at the Heritage Center or on 05 63 63 03 50.